Summary:
The main aim of AAIA is to secure effective assessment practice within the educational community and to further the educational practice and professional development of members.  This is achieved through the activities of the regional and working groups, through an annual conference and through the website (www.aaia.org.uk) and publications.  All of these provide a forum for the exchange of views, information, and experience related to all aspects of assessment. 
Furthermore AAIA provides a professional response to issues that may influence assessment as part of learning and teaching through formal and informal meetings with representatives of the DCSF, QCA, NAA, CIEA, OfQUAL and other appropriate national organisations or departments.  AAIA regularly responds to consultation documents and where possible representatives attend key seminars and conferences that have a bearing on assessment, learning and teaching.
Regional activities include the development of materials, publications and training to support assessment as part of learning and teaching as well as agreed procedures for inter-LA moderation. 
Finally AAIA liaises with other professional associations to further its aims and to promote better opportunities for learners of all ages.
Benefits of membership:
Full and associate membership

Access to the AAIA website, www.aaia.org.uk, and the exclusive members area
Receive email communications about urgent issues or up-to-date information
Receive at least one planned mailing a year
Request advice and information from the association
Involvement through AAIA, in national consultations

Full members

Annual National Conference
Regional meetings
Attend the AGM with voting rights
Receive hard copies of AAIA publications
Claim personal tax relief against subscription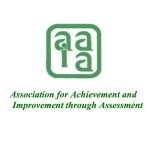 Contact details
3 Lower Road
Shottenden
Canterbury
CT4 8JT
Tel: 07801 889 004