Summary:
Patoss is the Professional Association of Teachers of Students with Specific Learning Difficulties (SpLD). The association is for all those concerned with the teaching and support of pupils with SpLD: dyslexia, dyspraxia, ADD, and Aspergers syndrome. Membership is open to qualified teachers in SpLD and those studying for these qualifications in SpLD, as well as other interested professionals and organisations and is an invaluable source of support and information.  
Many of our members teach in schools and colleges. Many provide one-to-one tuition to students with specific learning difficulties. This includes assessment of current level of knowledge and ability, assessing for access arrangements, planning programmes of work, delivering those programmes, advising on the broader educational programme, and liaising with other professionals.
Patoss has played a major role in influencing policy and practice in the area of specific learning difficulties, as a key player in the No To Failure campaign, by contribution to the National Committee for Standards in SpLD Assessment, the Dyslexia-SpLD Trust and the recent review carried out by Sir Jim Rose, "Identifying and Teaching Children and Young Children People with dyslexia and Literacy Difficulties". We continue to work to widen understanding of SpLD through consultation and joint projects with other professional bodies.
Patoss aims to promote good practice amongst professionals by providing a range of services to our members and has published guidance for those moving into this field as well as for parents and established practitioners.
Benefits of Membership:
Index of Tutors and Assessors
Resources List
E-mail helpline – professional advice on a range of SpLD topics
Annual Conference
CPD Training
Regular Newsletters and Bulletins
Legal Helpline run by specialists
Professional Indemnity Insurance as a benefit for suitably qualified members
Other publications relevant to the field of SpLD
Web Site linked to other organisations offering help, advice or equipment for dyslexics, teachers and carers
Individual membership and Corporate membership for schools, colleges and other organisations with an interest in SpLD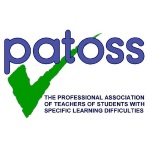 Contact details
Patoss Ltd
PO Box 10 
Evesham
Worcs
WR11 1ZW
Tel: 01386 712650