Summary:
Naace is the national association for everyone promoting learning with technology in a connected world. 
We are a community of schools, teachers, those who work in schools and the Education Technology industry. Our members share a vision for the role of technology in improving and transforming learning and teaching.
Education is moving to the next level and technology is a key enabler to this.
 The key benefits that are available to Naace members include:
Support through community, networking & collaboration
Career enhancing opportunities – e.g. opportunity to contribute to Naace activities such as Naace Curriculum Development, Self-review Framework Committee, Naace Board of Management or various Naace Expert Groups
Representation nationally & internationally – invitations to contribute to Naace consultations
Resources – bi-weekly e-Newsletter, online academic publications and guidance papers
Access to Talkists – active email discussion lists
Naace member exclusive opportunities e.g. discounts on purchases from selected suppliers or free product trials
Discounts to attend events throughout the year, including: CPD events, Think Tanks, Regional Conferences and the Naace Annual Strategic ConferenceOpportunity to apply for the coveted 3rd Millennium Learning Award (if you are a school member)
 We've asked some of our members why Naace is uniquely important to them:
"The sheer range of people in the Naace community and the terrific expertise in just about every area that you can think of makes Naace unique for me. The creativity, the knowledge, the ability to analyse government trends, there is nowhere else you could go to get that sort of input.""I frequently recommend it to colleagues, largely because I believe there should be a strong visible professional association for learning technology in schools, and currently Naace is the only feasible player.""Any school that wants to introduce ICT in their school should be part of a like-minded community like Naace." "A good way of accessing a broad range of opinions and links."
Naace is affiliated to ISTE, the International Society for Technology in Education, which represents 85,000 members worldwide.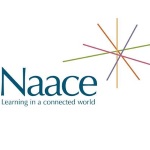 Contact details
Naace, C19
The Sir Colin Campbell Building
University of Nottingham Innovation Park
Triumph Road
Nottingham
NG7 2TU
Tel: 0870 240 0480 fax: 0870 241 4115